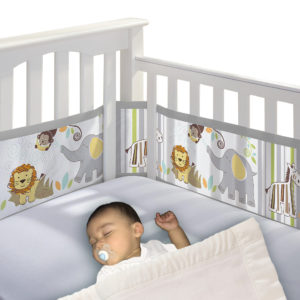 Like most parents, you want only the best for your baby. While the Internet has come a long way in making parenting tips, tools, and resources available, those opinions can sometimes be conflicting and lead to confusion. That confusion is spurred along by memories of the way things used to be done. For example, bright, colorful, coordinated crib bumper pads were once all the rage. Not only did they protect baby from injuries, they also added a colorful touch to cribs and added to the theme of the entire nursery. As cute as they are, though, bumper pads have given way to a safer alternative.
Welcome our new, breathable mesh crib liners, like the one featured here. The special fabric these are made from allows fresh air to flow through baby's crib and bedding. Also, crib liners are made of mesh which contains beneficial air pockets. The air pockets in mesh crib liners greatly reduce the risk of unintentional suffocation if baby rolls against the side of the crib.
Babies are adorably tiny and impossibly adorable. Mesh crib liners can help prevent tiny limbs from becoming entangled in, or poking through, a crib's sides and slats. Additionally, as an added safety measure, mesh liners collapse when baby tries to climb them, thereby lessening the risk of your little one climbing out of his crib.
Just say no to bumper pads and say yes to a safer alternative. Breathable mesh crib liners are a safe, affordable, alternative to traditional bumper pads. They're easy to install and help prevent many of the injuries and avoid many of the risks traditional bumper pads were used for. Our soft, breathable, mesh crib liners are available in four colors to fit any nursery décor. They're the perfect complement to any crib and keep your baby safe during the day and comfortably snug at night.